Creating a Transformative Digital Strategy
---


SHSMD Credentials 
July 11 - August 5, 2022
24/7 Access
---
From past attendees:
"I am presenting what I learned from the course to the rest of the team tomorrow at a retreat. We need to make a more deliberate move in this direction and I feel prepared to help guide us."
"Great speakers with practical knowledge and amazing communication skills. This was an amazing course and I have already been applying what I have learned. My main goal was to be confident at the end of the course in this area. I am! Thank you."
"It all made perfect sense, inspired me, and I have a much greater understanding of what needs to be done now. I loved the discussions."
SHSMD is excited to be bringing back our online credential course for our health care marketers and communicators who are looking to develop or refresh their digital strategy using a "tradigital" approach. According to MarketingWeek.com, "Tradigital is the fusion of traditional and digital. When applied to marketing, it effectively means applying traditional principles of marketing and branding to the digital space in order to gain competitive advantage."
Our expert faculty from Greystone.Net and Brown Parker & DeMarinis Advertising (BPD) will share their insights on the current state of digital marketing and emerging technologies. They will then outline a roadmap to help you start or revamp your digital strategy, and provide ways to create effective and scalable content. You will then learn how to share content tactics and activation ideas using a tradigital approach. The course will end with an overview of what's coming next and how to prepare.
A variety of health care providers will share real world case examples and resources that apply these insights. 
The credential will cover the following four topic modules, which include webinars, case examples, discussion board assignments, and access to a library of additional resources (conference session recordings, templates, white papers, articles, etc.). Participants will also walk away with a solution to a challenge or goal related to their role, by completing a case study assignment reviewed by peers. Completion of all course requirements will result in a SHSMD Credential in Digital Marketing Strategy, which can be shared as a digital badge on social media.
---
Module 1: Building the Foundation of a Successful Contemporary Digital Marketing Program in Health Care
Part 1 Webinar: Tuesday, July 12 (1-2:15pm Central)
Presenters: Kathy Divis, Lannie Byrd
Understanding the current state of digital marketing in/out of health care and the major trends impacting marketers
Inventory of marketing techniques/technology, how they work together and the importance of an integrated marketing technology
Positioning/aligning staff and other resources to meet new needs
 
Part 2 Webinar: Thursday, July 14 (1-2pm Central)
Presenters: Jason Brown, Sharon Line Clary
Picking a pilot project, setting reasonable goals and selling it to the C-Suite/Speaking CEO language
Creating an attribution model and ROI model
Selling through your budget
Week of July 19: Picking your pilot project/use case
Module 2: Telling Your Story to Drive Results
Webinar: Thursday, July 26 (1-2:15pm Central)
Presenter: Jason Brown, Daniel Fell
Developing an effective and scalable content strategy
Creating a powerful, dynamic messaging matrix
Understanding how data analysis is used to guide strategy and content
Module 3: Activating Your Message Across the Tradigital Landscape
Webinar: Tuesday, July 28 (1-2:15pm Central)
Presenter: Jason Brown
Creating a tradigital approach & lead generating digital tactics
Understanding the impact of your digital properties on your brand
Understanding the ABCs of owned versus paid versus earned media
Module 4: Preparing for What is Coming Next
Week of August 1: Pilot projects due
Webinar: Tuesday, August 2 (1-2pm Central)
Presenters: Kathy Divis, Brian Gresh
Exploring the emerging technologies including predictive analytics, virtual reality, and artificial intelligence/conversational intelligence
Exploring how emerging technologies may impact: budget and staffing, MarTech stack, channels used, and attribution models
Week of August 12: Peer Reviews due
---
*All live webinars are recorded and available to access 24/7 within the course platform.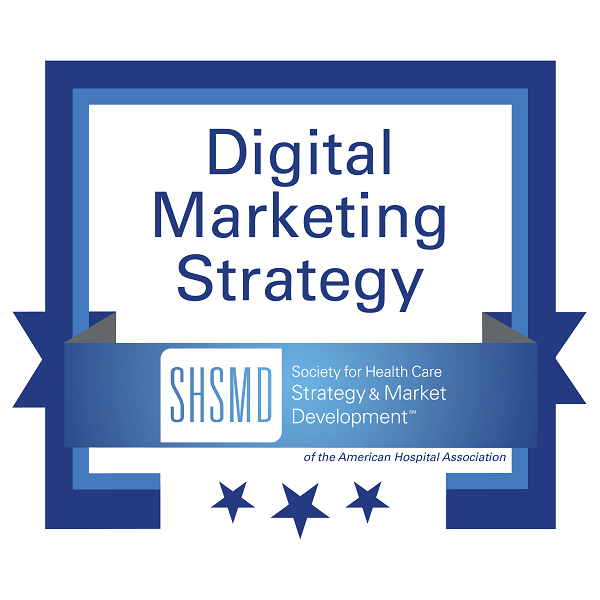 Completion of all discussion board assignments and successfully passing the exam will result in a SHSMD Credential in Digital Marketing Strategy.
REGISTER HERE:
Members: $650
Non-Members: $850*
*Includes 1 year SHSMD membership.
PRESENTERS
Jason Brown
CEO
Brown Parker & DeMarinis Advertising
Kathy Divis
President
Greystone.Net
GUEST SPEAKERS
Lannie Byrd
Chief Operating Officer
Teams SI
Danny Fell
Health Care Marketing and Brand Strategist
Optum
Brian Gresh
President
Loyal
Sharon Line Clary
Vice President Strategic Marketing & Communications
Advent Health