2022 Calendar of Health Observances & Recognition Days
---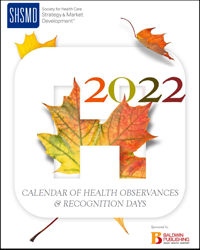 SHSMD is pleased to bring you the 2022 Calendar of Health Observances & Recognition Days. Yet another example of SHSMD's commitment to providing health care strategists with practical, timely resources, this calendar is designed to help you plan your 2022 community health events, internal and external communications, social media campaigns and more.
To ensure the utmost usability, you are receiving the calendar as an easy-to-navigate eBook/downloadable PDF, which includes active links to organization websites and email addresses. We encourage you to save this electronic document to your computer for convenient reference throughout the year.
Member Testimonial
"SHSMD's Calendar of Health Observances & Recognition Days has been a huge help to me when planning out the year for my department's activities. It catches dates I would definitely miss on my own, helps me strategize what we can do to recognize the major observances, and even schedule out some posts to save time. It sounds like a minor thing, but when you get so busy in the day-to-day it can be easy to overlook an important event! For me it's been a great resource and it's free to SHSMD members!"
 
-Whitney Liegakos, Community Education & Public Relations Manager, St. Luke Community Health Care
Sponsored by: