2018 Calendar of Health Observances & Recognition Days
---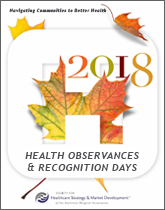 Updated February 2018. SHSMD is pleased to bring you the 2018 Calendar of Health Observances & Recognition Days. Yet another example of SHSMD's commitment to providing health care strategists with practical, timely resources, this calendar is designed to help you plan your 2018 community health events, internal and external communications, social media campaigns, and more.
To ensure the utmost usability, you are receiving the calendar as an easy-to-navigate, downloadable PDF, which includes active links to organization websites and e-mail addresses. We encourage you to save this electronic document to your computer for convenient reference throughout the year.
Members, to view this protected content, log in above.