Futurescan 2017-2022: Healthcare Trends and Implications
---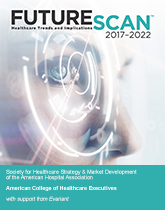 This highly respected annual guide to healthcare trends will help organizations plan for the future. In Futurescan 2017–2022, a panel of industry thought leaders addresses eight key issues regarding healthcare change and transformation. The expert insight in these pages is supported by data from a survey of 651 healthcare leaders across the country.
Futurescan 2017–2022 examines trend areas every healthcare professional should understand:
HOSPITAL/HEALTH SYSTEM INTEGRATION
By Ken Kaufman | Kaufman Hall
NEXT GENERATION PAYMENT REFORM
By Mike Chernew | Harvard Medical School Department of Health Care Policy
APPLICATIONS FOR BIG DATA IN HEALTHCARE
By Shahram Ebadollahi, PhD | IBM Watson Health
EVOLUTION OF THE HEALTHCARE CEO
By Howard R. Grant, JD, MD | Lahey Clinic
TRANSFORMATION OF THE HEALTHCARE WORKFORCE
By Maureen Bisognano | Institute for Healthcare Improvement
PHYSICIAN LEADERSHIP AND ENGAGEMENT STRATEGIES 
By Peter Angood, MD | American Association for Physician Leadership
ADVANCES IN VIRTUAL HEALTHCARE
By Randall Moore, MD | Mercy Virtual
INNOVATIONS IN HEALTHCARE
By Peter Diamandis, MD | X Prize Foundation
ORDER OPTIONS
PRINT
Call 800.242.2626 to order print editions by phone. Mail/fax orders also accepted.

(Futurescan 2017–2022 is sponsored by Evariant.)