Health Care Strategic Planning Insights: A SHSMD Benchmarking Report
---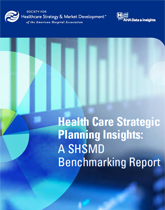 Strategic planners need insights into their industry peers practices to inform, challenge and validate their thinking. This report from SHSMD gives insights into planning operations, department structures, budgets, challenges and successes that will inform benchmarking and strategic planning operations.
Sample benchmark data includes:
60% of respondents stated that marketing, planning and business development are closely or partly integrated at their hospital or health system.
72% of respondents reported measuring or demonstrating the impact of their strategy function through dashboards and other reports that track progress and results
The report also features advice from thought leaders in strategic planning on how to ensure that strategic planning successfully leads hospitals and health systems into the future.
---