Consensus-Built Reputation: How to Unite the Masses and Unleash Storytelling Power Throughout Your Organization (Advanced)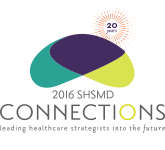 Most healthcare organizations crave a unified communications strategy that represents and differentiates their organization. But is it a myth? In fact, the key to making this a reality is a principle that each of us already implements in our own lives. Yet, few organizations ever establish and harness this missing link. During this case study session featuring Parkview Health, the presenters will encourage you to consider your organization's personality and perception in a completely new way. Learn how to define organizational personality, unify storytelling, and manage reputation with new tools and methods, all while building an engaged internal army.
Members, to view this protected content, log in above.