SHSMD Connections Conference
SHSMD Connections 2023 is the nation's leading annual conference for health care strategy and market development professionals.
If your role is in marketing/digital engagement, communications/public relations, strategic planning, and/or business development, join us in Chicago, September 10-12, for three days of actionable content, networking, and collaboration with the nation's top health care strategists. You will walk away inspired, with new connections, and a long list of innovative tactics.
Can't join us in person? The Virtual Component will be held October 20, 2023.
Conference Tracks/Topic Areas
Paid and Unpaid Media:

SEO/SEM
Social Media: TikTok, Facebook, Instagram, LinkedIn, other influencer platforms
Privacy, HIPAA, data compliance

CRM and automation
Content Strategy (websites, patient portals, apps, media)
Budgeting, ROI, key metrics, dashboards
Data analytics (data storytelling, reporting to C-suite and justifying campaigns)
Physician marketing
Population health strategies (behavioral marketing, diversity/equity/inclusion)
Consumerism (retail strategies, human-centered design, customer engagement, understanding the patient/customer journey)
Service line marketing
Market research
Brand and reputation strategies
Getting a seat at the table and getting leadership support for new ideas
Marketing workforce - new roles, team structure, turnover, managing remote teams, outsourcing

When do you use an agency versus keep in-house?
Crisis/disaster communications
Internal communications, employee engagement & burnout strategies
Physician retention and recruitment
Communications during times of great change/being change agent
Communications strategies for: Diversity, Equity and Inclusion, population health, community partnerships
Media relations
Reputation management and building trust
Political challenges - public reporting of price transparency, quality and patient satisfaction metrics
Storytelling
Fundraising
Culture building
Broadcasting (podcasts, FB Live, newsrooms, newsletters)
Innovative partnerships and competing with disruptor
Business planning (rapid cycle, scenario planning)
New models of care & revenue strategies (e.g. value-based care, virtual health/telemedicine, population health, ACOs, CINs, health & wellness, payor partnerships, at home hospital, etc.)
Integrating capital and financial planning (value-based care models)
Service line growth and planning
Growth & development strategies across the continuum of care (e.g. ambulatory, acute & traditional service line, post-acute, physician network, digital)
Strategic analytics & data visualization
COVID-19 recovery strategies and market opportunities
Incorporating Diversity, Equity and Inclusion goals into mission and planning
Financial planning
Diversity, Equity and Inclusion strategy - social determinants of health, health equity and access
Emerging health care trends, new care delivery methods (hospitals at home, next gen telehealth), disruptors & innovation
Health care policy, advocacy, regulations
Innovation & transformation (e.g. innovation centers, diversified revenue opportunities & investments, out-of-industry applications, private equity investment)
Consumerism, patient engagement, and personalized care
Technology-enabled innovation for digital access, seamless patient navigation, human design, use of Artificial Intelligence
Strategic partnerships & stakeholder alignment
Planning for the future of health care-What's next?
Career growth & development, (e.g. executive presence, emotional intelligence, change acceleration)
Budget and Financial management – staffing, prioritization, budget cuts, challenges for small organizations
Workforce:

Workforce planning - turnover challenges and retention strategies
Mental health and emotional well-being; burnout & resiliency
Employee Engagement strategies
Diversity, Equity and Inclusion
Managing remote-based workers and hybrid work environments

Mentorship
Enhancing staff roles, processes, re-organization of teams

Mark Your Calendar!
Thank you for a very successful and exciting conference this year. Save the date for 2023: Start planning now to attend next year's SHSMD Connections in Chicago: September 10-12, 2023!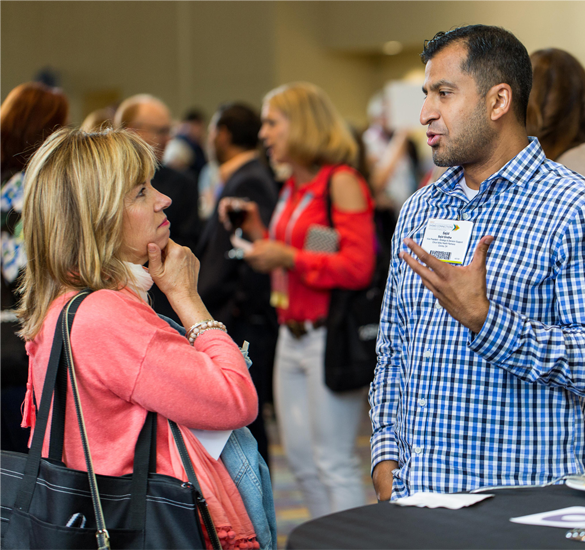 SHSMD 2023 Annual Conference
What to Expect at SHSMD 2023
Attendees at SHSMD's Annual Conference will learn about new practices, discover solutions to complex challenges and stay informed about new developments in the health care strategy field.
Peer-to-peer knowledge sharing
Timely and innovative sessions from leading experts
Hands-on solutions from vendors
Continuing education credits towards leading certifications
Chicago, IL | Big City Features with Homegrown Hospitality
This year's SHSMD Annual Conference will be held in downtown Chicago, IL. The location is near exquisite dining, a variety of shopping centers, world-class museums, waterfront activities and endless entertainment. As you plan your conference trip, be sure to make time to explore this beautiful city in late summer!
Here are a few of our favorites that we know you will enjoy:
Navy Pier: Explore this fun filled hot spot to marvel at Chicago's beautiful waterfront and skyline.
The Art Institute of Chicago: Visit one of the most diverse and unique galleries in the Midwest, housing impactful art of all mediums.
The Field Museum: Enjoy a tour through this multi-award winning museum, known for its Egyptian mummies, the man-eating lions of Tsavo, and SUE, the largest and most complete Tyrannosaurus rex ever discovered.
Skydeck Chicago: Get some thrills by visiting this sky high attraction.
Goodman Theatre: Come be entertained by some of the nation's best performers.
Millennium Park: Take a relaxing stroll through this beautiful park known for the Bean, its serene scenery and fun festivals.