Physician Relations Comes of Age with Data-Driven Results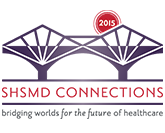 If you've seen one physician relations program, you've seen only one. Each program is different, yet every program strives to show ROI through measurable value and impact. Attendees will benefit from hearing about structure and metrics from three different health systems. Starting with a data-driven framework, we'll offer ways to build a program with metrics that resonate with internal stakeholders and leadership. We'll share new ways to add value through digital strategies, satisfaction measures, and engagement techniques. The discussion also will provide insights into how each program is evolving to continue to thrive in the world of value-based care.
Members, to view this protected content, log in above.