Righting the Ship: Creating a Patient-Centered Digital Strategy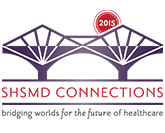 Like many academic medical centers, Chicago's Rush University Medical Center's website and digital marketing efforts were overly influenced by its organizational structure. Juggling competing priorities and tiptoeing around internal politics often got in the way of effective communication with the medical center's most important audience: patients. Find out how Rush reinvented its website and digital marketing strategy to offer a truly patient-centric online experience. Hear how Rush subjected its digital marketing to a cold-eyed analysis and undertook a comprehensive digital strategy and redesign.
Members, to view this protected content, log in above.