The Newest Megatrend in Healthcare: Performance Transparency Using Big Data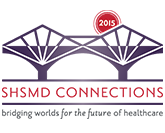 Big data now enables performance transparency at a scale that has never been seen before, and this stands to disrupt the entire healthcare system. Previous efforts have made small improvements, but we now stand at the edge of a megatrend that is beginning to drive significant change in healthcare through performance transparency. In this session, learn how true transparency offers the opportunity to optimize the performance of large physician networks, with huge potential gains in efficiency, cost, and outcomes.
Members, to view this protected content, log in above.