The Subconscious Mind May Be Your Most Powerful Ally in Healthcare Marketing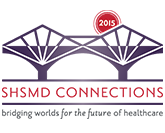 The shift from fee-for-service to value-based reimbursement means health organizations are being incentivized to keep people healthy. Now more than ever we need more effective ways to engage people and a greater understanding of consumer decision making. How do most people choose when to see a doctor or register for a screening? And what are the best ways to influence their decisions? This session will show how some simple shifts in thinking can have a positive impact on behavior change through a combination of behavioral science theory and creative real-world examples.
Members, to view this protected content, log in above.