Executive Dialogue 2019 - Organizational Transformation: Stories, Strategies, Culture and Change
---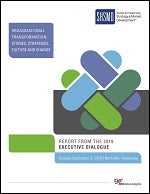 Transformation is more than change; it is a change that reshapes entire organizations and sectors. The same forces that transformed retail, movies, books, music and the workplace are exerting their power on hospitals and health systems. Health care executives who have led successful transformation shared their stories and advice.
Download today for highlights on:
The role of culture and the need to reconcile competing values in cultures.
How to develop a patient-centric culture.
How to develop deep understandings of patient and staff needs.
The importance of accepting intelligent failure.

Members, to view this protected content, log in above.