SHSMD Connections 2022 Virtual Conference
SHSMD 2022 Annual Virtual Conference
October 12 | 9:00 AM - 3:50 PM ET | PLUS on-demand access through end of the year.
The SHSMD 2022 Virtual Conference delivers key takeaways from the in-person event for attendees that can't make the trip to National Harbor.
Log in from the comfort of your home or office and join other health care strategists creating change with their unique perspectives and collaborative spirits in the face of uncertainty and change. SHSMD Connections 2022 is your chance to light the way to a brighter future with live and recorded breakout sessions and keynotes.

Register for on demand access!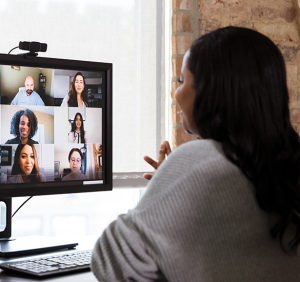 SHSMD 2022 Annual Conference
What to Expect at the Virtual Conference
One day of new sessions plus access to recorded from the in-person event through the end of the year. Learn about new practices, discover solutions to complex challenges and stay informed about new developments in the health care strategy field.
55+ sessions - live and recorded. Available through end of the year.
Timely and innovative insights from leading experts.
One day of live sessions not available at in-person event.
Earn 5 Continuing education units (CEUs).
Live Virtual Sessions
9:00-9:30 AM ET

Track: Marketing & Digital Engagement

Most healthcare marketing teams have yet to realize the full potential of personalized email marketing because of concerns about privacy regulations like HIPAA. In this pre-recorded, fast-paced session, the HIPAA compliance experts at Paubox will give digital marketers 25 tips for understanding HIPAA, its impact on marketing activities, and how to mitigate the risk of potential violations in just 25 minutes.

Speaker:

Speaker: Shawn Dickerson, VP of Marketing for Paubox

Shawn has nearly 25 years of experience in healthcare and B2B technology marketing, with much of that time dedicated to helping organizations collaborate and communicate securely and effectively. Before joining Paubox, Shawn previously held marketing leadership positions with several B2B SaaS companies as well as the healthcare IT research firm KLAS. Shawn is a published author who resides in Pleasant Grove, Utah, with his wife and five children. He is a graduate of Brigham Young University.

Sponsored by: 

10:00-10:50 AM ET

Dr. Mary "Toni" Flowers, subject matter expert featured in SHSMD's Futurescan 2023-2028 Health Care Trends & Implications publication, will discuss the importance of studying all data sets to ensure everyone receives excellent and equitable care. You will leave this keynote understanding that collaboration is critical to addressing health disparities. Fostering diversity and inclusion is becoming part of the overall strategic plan for health systems, and that makes it within everyone's scope of responsibility. Tune in to listen to a podcast episode on "Diversity, Equity and Inclusion: A Global Perspective" from SHSMD's Rapid Insights podcast!

Speaker:

Dr. Mary "Toni" Flowers, Chief Diversity & Social Responsibility Officer, LCMC Health

11:00-11:50 AM ET

Track: Marketing & Digital Engagement

Understanding the enormous impact weight loss can have on overall health, Virtua Health prioritized resources to grow its bariatric service line while improving patient outcomes using a digital engagement and activation campaign that far exceeded its goals - and positively impacted hundreds of patient lives. By adjusting the original goal of its campaign from acquiring new patients to nurturing relationships with existing ones, the health system nearly doubled the industry average open rate by deploying a series of weekly emails containing content customized to recipients. In turn, it experienced a remarkable 41% increase in bariatric surgery volume.

Speakers:

Ms Bridget Reuter, Marketing Manager, Service Lines, Virtua Health
Alan Tam, Vice President, Marketing, Actium Health

12:00-12:50PM ET

Track: Communications & Public Relations

Health care leaders have struggled to align culture and employee behavior to deliver a consistently excellent patient experience. As disruption and unknowns continue to multiply, this alignment has become even more critical. A patient-centered Brand Promise can realign employees with a more unified culture, increasing engagement so they can deliver better patient care. If actionable and believable, it can help cut through the uncertainties, giving employees clarity and alignment. In this session, we'll take you on one organization's journey to discover their authentic patient-centered brand promise and show how they use it for employee engagement, recruiting and training.

Speakers:

John Parran, Chief Operating Officer, NewPath Child & Family Solutions
Jackie Roberto, Co-Founder, Tandem & Madison Design
Kate Burkhardt, BA, MPM, Marketing Manager, NewPath Child & Family Solutions

1:00-1:50 PM ET

Track: Strategic Planning & Business Development 

Emory Healthcare has incorporated scorecards, dashboards, and maps to evolve its strategic planning process to include informative, engaging visualizations. As health systems continue to experience a tidal wave of change, the need for strategic planning processes to deliver complex information in synthesized formats is critical. Through specific use cases, this session will further detail how visualizations have been utilized in the strategic planning processes at Emory Healthcare.

Speakers:

Lucy Bethune, Senior Planning Associate, Emory Healthcare
Caroline Foster, Data Analyst, Emory Healthcare

2:00-2:50 PM ET

Track: Innovation & Cross-Disciplinary Solutions

The Design & Innovation Group within Memorial Sloan Kettering Cancer Center created an Equity and Antiracism initiative to learn, reflect, and improve the team's design practice with a diversity, equity, and inclusion approach. The team developed an activity guide that invites stakeholders to reflect on the potential implications that strategies might cause. The tool prompts to assess the possible harms resulting from the design of programs, services, and policies, articulate actionable next steps, and expand participants' creative and critical thinking. In addition, we will share possible real-life applications for where all levels of an organization can utilize and implement.

Speakers:

Javiera Arenas, Design Strategist, Memorial Sloan Kettering Cancer Center
Melissa Zablocki, Sr. Strategic Initiatives Manager, Memorial Sloan Kettering Cancer Center

3:00-3:50 PM ET

Track: Career & Leadership Development

Although mentorship took a pause for many professionals during the pandemic, now is a great time to revisit this essential relationship. Challenges created by marketplace disruption and remote work, and career disconnection and anxiety, are common issues plaguing marketers. In this session, a health care marketing executive and a marketing manager in SHSMD's mentorship program bring their experiences full circle to discuss new methods to not only survive but thrive professionally and personally.

Speakers:


Ms. Jann Holland, VP Marketing & Corporate Communications, CoxHealth
Megan Stinchcomb, Senior Marketing Manager, Mayo Clinic

Bonus Content

Increasingly we are recognizing the effects of acute and chronic trauma on our workforce. This presentation identifies and defines trauma and its effects. We offer tools for recognition and mitigation of personal trauma as well as tools for organizational leaders to manage a traumatized organization.

Speakers:

Brooke Buckley, MD, FACS
Robert Matheny, MSC, Manager, Neurodiagnostics, Henry Ford Hospital