A Conversation with Bozoma (Boz) Saint John | Brand Guru for PepsiCo, Apple, Uber & "160 over 90"
An exciting keynote speaker to wrap up 2019! This is a one-of-a-kind webinar you won't want to miss.
---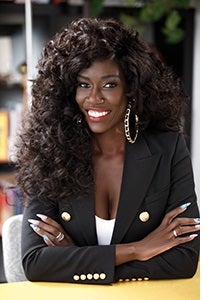 Learn how Bozoma "Boz" Saint John has become a trail blazing brand marketing executive and change agent by humanizing some of the most popular brands through a focus on empathy, authenticity and inclusion. She will share how pop culture's ability to disrupt narratives is a real opportunity for all of us to utilize within our own spaces, including health care.

Currently, Boz serves as Chief Marketing Officer for "160 over 90" (formerly Endeavor Global Marketing), a global leader in entertainment, sports and fashion. In her role, Saint John focuses on driving marketing efforts across the growing global network of companies, including "160 over 90" clients and premium brands. 

Prior to Endeavor, Boz served as Chief Brand Officer for Uber, where she was tasked with telling the stories of millions of riders and driver partners across 600+ cities. 

Before Uber, Saint John served as Head of Global Consumer Marketing for Apple Music and iTunes, spearheading campaigns geared towards growing consumer brand recognition, loyalty and equity around the world. She stole the show at Apple's keynote World Wide Developers Conference when she introduced the new interface for Apple Music. Following the presentation, Buzzfeed called her the "coolest person to ever go on stage at an Apple event."

Her role at Apple came after serving as Head of the Music and Entertainment Marketing Group at Pepsi-Cola North America, where she drove breakthrough consumer engagement plans for brands across the soda giant's beverages portfolio by engaging tastemaker-consumers. 

Saint John has also served as VP of Marketing for Ashley Stewart, a women's fashion brand, as well as managed accounts at advertising agencies Arnold Worldwide and Spike Lee's SpikeDDB. 

SHSMD's "Rapid Insights" Podcast host, Bill Klaproth, from RadioMD, will moderate this open and informal conversation with Boz. Webinar attendees will have a chance to ask Boz questions as well.