Thought Leader Forum 2019 - Creating the Financially Sustainable Health System
---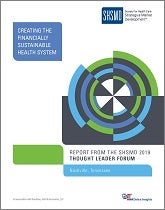 Hospitals historically have been the economic engine of health systems, but today they face significant financial challenges. Mergers and acquisitions (M&As) promised to help them improve performance through "systemness," but in many cases M&As have not yet resulted in true integration.
Health system leaders must figure out how to use their scale to transform the acute care model and make smart investment decisions that drive returns on investment and expand their services beyond acute care.
The eighth annual Thought Leader Forum brought together the following panel of experts to share their perspectives on this increasingly important issue:
K. Hamani Franklin, former director, system strategy, Indiana University (IU) Health.
Maria L. Royce, senior vice president, strategy & market development, and chief strategy officer, WellSpan Health.
Thomas J. (T.J.) Senker, FACHE, president, MedStar Montgomery Medical Center, and senior vice president, MedStar Health.
The panelists discussed the need to harness the benefits of systemness, balance the interplay between centralized and local decision making, create a common organizational culture and improve the consumer experience.
This report provides an overview of the key takeaways from the forum.
Members, to view this protected content, log in above.