The Health IT Transformation: Implications for Communicators (Advanced)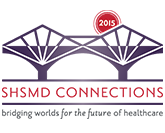 The health information technology movement is creating opportunities for healthcare communicators to connect with stakeholders across the continuum of care. In this case study presentation, get an inside look at ways providers across the country are leveraging health IT to keep patients healthier, improve transitions of care from one setting to another, and enhance efficiency " and learn how you can cultivate stories like these to elevate your brand. The presentation will draw on the insights gained through the US government's support of health IT implementation since the Health Information Technology for Economic and Clinical Health Act of 2009 was enacted.
Members, to view this protected content, log in above.