SHSMD Announces 2015 President-elect, Directors
Larry Margolis Will Lead AHA Strategy Society in 2016
---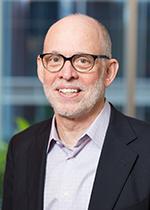 San Diego (October 13, 2014) — The Society for Healthcare Strategy & Market Development (SHSMD), a 4,000-member personal membership group of the American Hospital Association, announced the election of Larry Margolis, a health care strategy consultant from LaGrange, Ill., as president-elect of the SHSMD board of directors, effective January 1, 2015. Margolis's term as president of the organization of health care strategy professionals will begin on January 1, 2016.
Margolis is a managing partner at SPM, a brand and marketing communications firm specializing in health care. For more than 25 years, he has worked with hospitals and health systems throughout the United States to develop results-oriented branding and communications programs.  Along with his partner, he leads all client engagements. He has a 360-degree view of the industry having started his career in hospitals as a transportation orderly and ward secretary. After graduate school, he moved into an administrator position in a county hospital system, finally serving in a COO capacity. Before joining SPM, Margolis's prior experience included leadership positions as a founding partner in a managed care consulting firm and a principal with a strategic planning health care consulting firm. Larry has served on the SHSMD Board of Directors since 2009 and has chaired the Finance Committee among numerous other task force and committee assignments.
In addition, four health care leaders were elected to the 17-member SHSMD board of directors for three-year terms beginning January 1, 2015. They are:
Richard Ayers, vice president, public relations and marketing, WellSpan Health (York, Pa.)
Lisa Henry, director, marketing and Health Link call center, Mary Washington Healthcare (Fredericksburg, Va.)
Camille Strickland, senior director, marketing and communications, Orthopaedic Institute for Children (in Alliance with UCLA Health) (Los Angeles)
Jennifer Wilkerson, vice president for strategic and business planning, MedStar Health (Baltimore)
---
About SHSMD
The Society for Healthcare Strategy & Market Development is the premier organization for healthcare planners, marketers, and communications and public relations professionals. A personal membership group of the American Hospital Association, SHSMD serves more than 4,000 members and is the largest organization in the nation devoted to serving the needs of healthcare strategy professionals. The Society is committed to helping its members meet the future with greater knowledge and opportunity as their organizations work to improve health status and quality of life in their communities. For more information, visit shsmd.org.
Contact:
SHSMD
shsmd@aha.org
312.422.3888