Call for Nominations: 2019 Terri McNorton SHSMD Rising Star Award
---
Please check back in 2020 for the nominations process!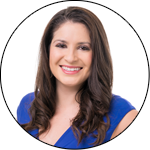 Cristal Herrera Woodley
Director of Marketing, Communications and Customer Engagement
Renown Health
In the words of her nominator:
"Cristal has a knack for connecting the dots between all the teams and excellent people that keep Renown moving forward every day."
"She...inspires everyone around her to perform their best each and every day."
"Cristal exemplifies the SHSMD values of people, integrity, leadership, diversity, collaboration, excellence, innovation and growth and development."
"Cristal has led local, statewide and national efforts to improve the health of our community through the Healthy Nevada Project and Healthy USA Project."
The 2019 Rising Star award also recognizes the many contributions of Terri McNorton to SHSMD and to the health care strategy profession. For nearly two decades, Terri served as vice president for three major regional health systems, General Health System Baton Rouge, Louisiana; Ochsner Health System New Orleans, Louisiana; and Bon Secours Health System based in Marriottsville, Maryland.
During her career, she was awarded over 100 regional and national honors for marketing and communications achievements, including SHSMD's Leadership Excellence Award, and she dedicated much of her time to developing the profession.
Terri openly shared her expertise with her peers through presentations of SHSMD's annual conference and various other national and regional events. She served on the SHSMD board for several years and held volunteer leadership roles at many other professional and trade organizations. She also mentored many young professionals, gladly sharing her insights and advice.
Terri McNorton left this world peacefully on January 1 of this year, after a long battle with cancer. Terri's beautiful, generous spirit and record of achievements were an inspiration to all who knew and worked with her. The SHSMD board is proud to name the 2019 Rising Star award in her honor.
---
The SHSMD Rising Star Award recognizes health care strategy professionals under the age of 40 who have demonstrated outstanding promise in their respective fields. Established in 2014, this award shines a spotlight on SHSMD members who are on their way to making significant contributions to their profession and the SHSMD membership.
Over the years, the Society has acknowledged and honored individual members' influence, impact and memory. This year we will be honoring Terri McNorton, a longtime member of the society and outstanding professional who made countless contributions to SHSMD during her distinguished career. SHSMD is dedicating the 2019 Rising Star award to her memory and we will reflect on her legacy at the 2019 annual conference award ceremony.
In addition to being recognized at the SHSMD Connections Annual Conference, the recipient/s of the 2019 award will receive the following:
Complimentary registration to SHSMD Connections 2019 in Nashville, 8–11, 2019 

($895 value)

Complimentary registrations to three SHSMD U Online Courses in the 12 months following their receipt of the award

($1,050 value)
Nomination Deadline: April 30, 2019 
(Self-Nominations Accepted)
Eligibility
Nominees must be SHSMD members in good standing:
Under the age of 40 (as of October 7, 2019)
Currently working in the health care strategy professions: marketing, public relations / communications, strategic planning, or physician relations
With at least two years' experience in a health care provider organization
Award Criteria
Exceptional Personal Qualities (25%)
Evidence of the nominee's exceptional personal qualities and integrity, considering the values of our profession and those of SHSMD; engagement in professional/community service on a local, regional and/or national level
Potential for Leadership (20%)
Demonstrated potential for leadership based on their participation in professional and/or community organizations, publication in professional literature, professional public speaking and/or mentoring of other professionals
Innovation (15%)
Demonstrates curiosity, creativity and nimbleness to exceed the rate of change (identified in Bridging Worlds) through innovative use of solid marketing, public relations and/or planning techniques, including—but not limited to—new product development, product line management, sales, community relations, environmental analysis, competitor assessment, needs assessment, forecasting or network development (e.g., creating new/novel partnerships, drawing and applying examples from other industries, etc.) 
Nomination Process
Nominations may be submitted by former or current colleagues; nominators need not be SHSMD members. Self-nominations are also accepted. Nominations must include a letter of recommendation from a senior leader (director-level or above). Self-nominations also require a second letter of recommendation. The letter/s should address the nominee's personal qualities and potential for leadership, providing specific examples of the candidate's qualifications and achievements. The nominee's professional resumé or CV is also required at the time of nomination.
To nominate a colleague or yourself, please complete this form no later than April 30, 2019. We recommend that you preview the form via this link. 
View the official rules for the SHSMD Rising Star Award.