Post a Job on the SHSMD Career Center
---

Employers, SHSMD Career Center advertisement offers:
POST A JOB
Online Job Listing
SHSMD Only Listing
SHSMD + Network Listing
30 days
$450 Standard; $550 Featured
$100 add-on
60 days
$650 Standard; $850 Featured
$100 add-on
90 days
$850 Standard; $1,150 Featured
$100 add-on
Network Job Listings
Post your job listing to the SHSMD Career Center only ("SHSMD Only"), or expand your reach by posting to the National Healthcare Career Network (NHCN) ("Network") to have your job listing automatically displayed in all relevant health care association career centers in the network.
Featured Job Listings
Did you know jobs featured in the search results receive twice as many detailed page views and apply clicks? Select the "Featured Listing" option to highlight your job in the online career center. Featured jobs appear at the top of the weekly Career Center e-newsletter, distributed each Friday to SHSMD's more than 4,000 members, and also in a dedicated Tweet from SHSMD's verified Twitter account.
Programmatic Job Enhancement
Boost your job posting exposure across the web through programmatic retargeting. Keep your position top of mind and expand your qualified candidate pool.
30-Day Programmatic Job Enhancement: $350.00
60-Day Programmatic Job Enhancement: $650.00
90-Day Programmatic Job Enhancement: $900.00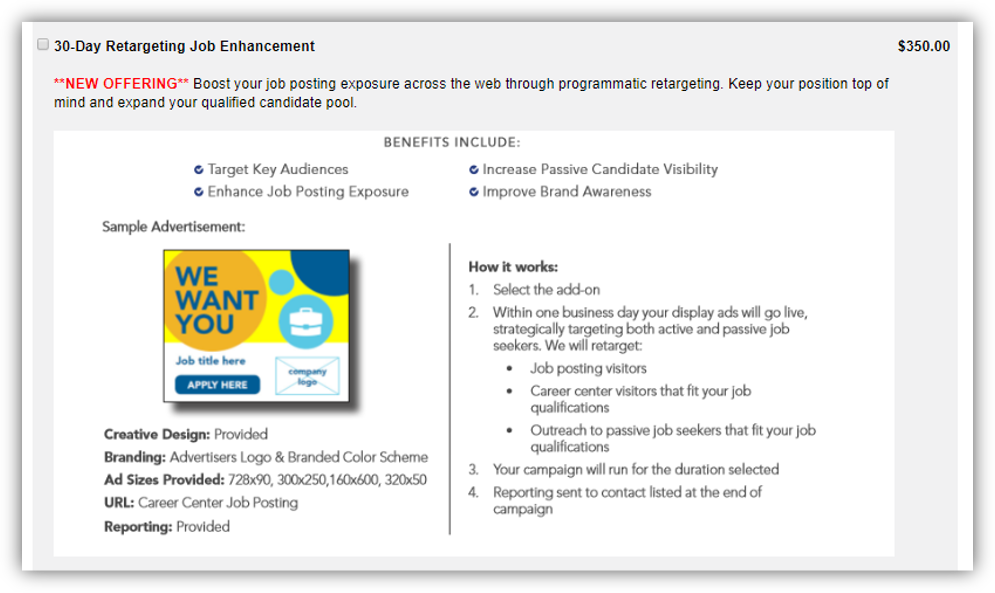 Other add-ons include:
Digital job video presented by Digi-me ($200)
Social recruiting ($125)
---
POST A PROFILE
Online Employer Profile
Featured Profile
(30 Days)
SHSMD Only
$500
SHSMD + Network
$1,230

Featured Employer Profile FOR PREMIER EXPOSURE!
Position your organization as a leading employer with a featured employer profile. This comprehensive online profile provides maximum exposure for your organization and your job listings, including a banner ad, dedicated employer profile page, and more. (Learn more about being a featured employer.)