2021 Compensation and Work Satisfaction Report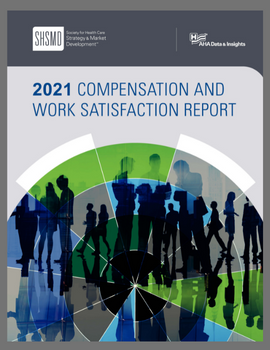 Is your compensation comparable to that of your peers in other hospitals and health care organizations? How does your job satisfaction measure up to that of other health care strategy professionals? 
Since 2008, the Society for Health Care Strategy & Market Development (SHSMD) has conducted a biennial survey of salary and benefits information from health care strategists across planning, business development, marketing, public relations, communications and physician relations departments. 
This members-only report on compensation and work satisfaction gives you the insights you need to make compensation and other career decisions with certainty, whether you are hiring, planning department expansion or looking to make your next career move. 

The new edition of this highly anticipated report, features:
The latest information on salaries, bonuses, benefits, and work satisfaction 
Data by department function, tenure, job function and title.
44 exhibits presenting survey results
A complete appendix of compensation tables
Respondent profiles, organization profiles and much more!
Members, to view this protected content, log in above.