Building a Content Hub to Bridge Worlds (and Tell Stories)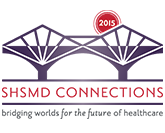 With all of the changes in traditional and digital media, communications professionals have an historic opportunity to strategically reach their core audiences in meaningful, relevant ways. Organizations that are able to create a truly integrated communication function are ahead of the game. This "how to" session will present the steps University Hospitals of Cleveland took to develop the system's first integrated content hub, align its team for success, establish milestones, and produce repeatable results for internal and external audiences. This session will also address how to replicate this success, and links many of the insights and implications from Bridging Worlds.
Members, to view this protected content, log in above.