Developing the Indispensable Health Network: Insights from the 2018 SHSMD Executive Dialogue
---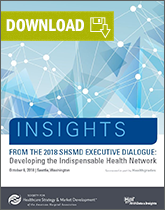 It is vital to develop the indispensable health care network in light of today's many challenges, which will lead organizations toward stronger market relevance.
At the seventh annual Executive Dialogue, senior health care leaders shared their strategies for partnerships and innovation, including how to select partners and initiate the relationship, create win-win opportunities, develop a culture of collaboration and maximize the benefits of a system.
This report distills these discussions so that other strategic leaders connected with SHSMD can lead their organizations toward stronger market relevance through strategy that develops cultures of collaboration and innovation. Download today for highlights on:
Rating Health Care Organizations in Today's Market as presented by Ken Gacka, Senior Director and Analytical Manager, Healthcare Ratings, S&P Global
Provider Organization Alignment: Selecting the Right Partner, Realizing the Promise of Integration as presented by Ruth Colby, President and Chief Executive Officer, Silver Cross Hospital, Scott Gregerson, President, Stanford Health Care — ValleyCare and Jeffrey Kraut, Executive Vice President for Strategy and Analytics, Northwell Health; Associate Dean for Strategy, Zucker School of Medicine
The Payer-Provider Partnership: Lessons from Tufts Health Plan as presented by Derek Abruzzese, Senior Vice President and Chief Strategy Officer, Tufts Health Plan
Partnering in New Ways: New Market Entrants as presented by Eric Langshur, Co-Founder and Chief Executive Officer, AVIA

Members, to view this protected content, log in above.