Futurescan Multi-Pack (A discounted bundle of 2018, 2017 and 2016 issues)
---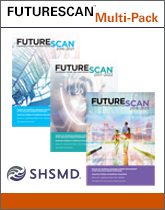 The Futurescan Multi-Pack features the 2018, 2017 and 2016 issues of this highly respected guide to current health care trends. The publications include articles from thought and opinion leaders that explore key forces that are transforming the field. 
The 2018 Futurescan highlights:
The future of value-based care 
What's next in health care consumerism 
The importance of health care cybersecurity
How providers can advance health equity
The transformation of emergency care
Health care facilities of the future
The emerging role of employers in health care
Trends in provider-sponsored health plans
The 2017 issue focuses on:
Hospital/Health System integration
Next generation payment reform
Applications for big data in health care
Evolution of the health care CEO
Transformation of the health care workforce
Physician leadership and engagement strategies
Advances in virtual health care
Innovations in health care
And the 2016 Futurescan addresses:
Engaging increasingly value-conscious patients and consumers 
Exploring capital models required to finance transitions in health care 
Identifying change management skills and competencies leaders need for the future 
Accelerating innovations that improve the value of health care
Developing wellness programs that improve health and reduce medical costs 
Reengineering health care at a massive scale
Assuming risk in caring for defined populations 
Integrating behavioral health and medical care 
The articles in each issue are supported by insights from a national survey of hospital executives. Futurescan 2018, 2017 and 2016 provide strategic actions health care leaders and professionals can take to position their organizations for future success.