Insights from the SHSMD Executive Dialogue: Leading Change
---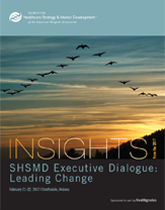 Senior health care leaders recently gathered in Phoenix at the 2017 SHSMD Executive Dialogue for a collaborative emphasis on Leading Change. Great attention was given to leading change, the challenges of a changing organization, and the need to remain nimble while influencing others through a successful change journey.
Health care leaders engaged in rich discussions on a wide range of topics, including:
Leading Change in Health Care Organizations
Evolution Strategy
Value-Based Contracting to Support Population Health
Lessons on Consumer-Driven Health Care
Insights and Implications on accelerating change in health care
The panel of executives, from Columbia Business School, Banner Health, and Montefiore HealthSystem, shared their innovative approaches for communicating effective change leadership and ways to implement clear communication for future vison and alignment:
Todd D. Jick, PhD, Professor of Management, Columbia Business School
Peter S. Fine, FACHE, President and Chief Executive Officer, Banner Health
Stephen Rosenthal, Senior Vice President, Population Health Management, Montefiore Health System
Members, to view this protected content, log in above.