Support SEO with a Cohesive Patient Journey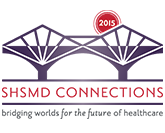 Everyone wants improved search rankings. The key is to stop focusing on search engine optimization (SEO) and to start focusing on delivering valuable content that matches the patient journey. In this session, you will learn how to align organizational goals with your content strategy, identify if sufficient content exists to meet your organizational goals, explore distribution options marketers are leveraging to help you decide which channels are right for you, and stay current on SEO best practices. Attendees will hear how Olmsted Medical Center invested in content and SEO to increase the visibility of its women's services among health consumers.
Members, to view this protected content, log in above.