Strategic Planning in Health Care Credential Series
---

Live Sessions:
November 6 - January 19 |
On Demand Recordings:
24/7 access
---
Learn how to develop a strategic plan that will lead your organization through change.
According to intelligence services company IntelliBridge, only 10% of organizations successfully implement and execute strategic planning. That's because strategic planning is a complex process that requires a deep understanding of the health care field, the ability to assess key trends and challenges, and the skills to develop and implement effective strategies.
This comprehensive two-course program will teach you how to:
Align your strategic plan with your organization's mission, vision, and values.
Identify and assess key trends and challenges in the health care field.
Develop effective strategies to achieve your organization's goals and objectives.
Communicate and implement your plan successfully.
How will this course benefit your career?
Increased earning potential - According to a SHSMD 2021 survey of compensation salaries were significantly higher for those with strategic planning skills.   
Career advancement - The skills taught in this course are essential for those that aspire to advance to leadership positions. 
Improved job satisfaction - Individuals involved in strategy have the opportunity to make a real difference in their organization and help improve the quality of care for patients.
Competitive advantage - Organizations with strong strategic plans are better positioned to succeed in today's competitive environment. 
 For groups of 3 or more a 10% discount is available. Please contact shsmd@aha.org.
---
Agenda
Please note: All live webinars will be held 12 p.m. to 1 p.m. CT
We encourage you to participate as much as possible during the live webinars, but in the event you cannot attend, all modules are recorded and available 24/7.
Course 1: Strategic Planning Process and Content
This course will cover four modules, with each module including a live, 60 minute webcast and associated discussions/assignments. Registrants must also pass a short exam at the end of the course as part of the credential requirements.  
Module 1: Designing an Effective Strategic Planning Process
Tuesday, November 7, 2023
Suzanne Krentz
Module 2: Elements of a Strategic Plan
Thursday, November 9, 2023
Module 3: Strategic Metrics (Key Performance Indicators)
Tuesday, November 14, 2023
Suzanne Krentz
Module 4: Understanding Context and Being Future Focused
Wednesday, November 15, 2023
Jeff Kraut
Electives Course: Self-Paced
---
Course 2: Successful Plan Execution
Module 1: Communicating the Strategic Plan to Different Stakeholders
Tuesday, January 9, 2024
Suzanne Krentz
Module 2: Developing a Tactical Plan
Thursday, Jan 11, 2024
Jeff Kraut
Module 3:  Integrating and Aligning the Strategic Plan with Financial Planning
Tuesday, January 16, 2024
Module 4: Bridging Worlds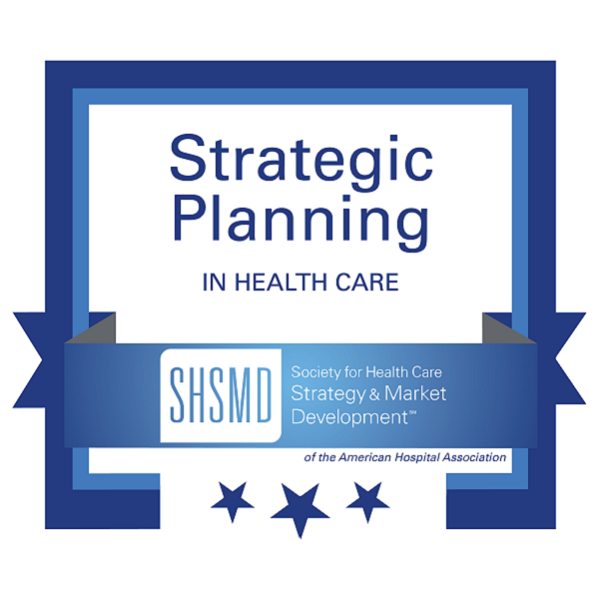 Only upon completion of all the credential requirements will registrants will receive a SHSMD Strategic Planning in Health Care Credential. This includes completion of assignments, discussion board, exams, quizzes, and evaluations.
REGISTER
*Includes 1-year SHSMD membership.
FACILITATORS
Jeffrey A. Kraut
Executive Vice President Strategy & Analytics
Northwell Health
Susanna Krentz
Principal
Krentz Consulting
BONUS!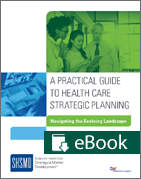 All participants will receive a complimentary digital copy of A Practical Guide to Health Care Strategic Planning. To purchase additional copies of the publication, click here.
TESTIMONIALS
"I hold an established strategy role at a large institution and this course FAR exceeded my expectations (which were already high) in terms of rich content, crisp delivery, flexibility for a professional learner, and immediate applicability to my daily responsibilities. Truly spectacular!"

"The speakers, moderator, presentations, and content were excellent! I enjoyed seeing real examples of concepts and materials being taught."

"This has been a great resource and learning opportunity for me. Will not only make me a more valuable employee but more importantly will benefit our hospital and patients."

"Very well done. SHSMD is a gold standard for strategic planning."