Strategic Planning in Health Care
---


SHSMD Credential
Monday, November 8, 2021 - Monday, January 31, 2022
24/7 access
---
From past attendees:
"I hold an established strategy role at a large institution and this course FAR exceeded my expectations (which were already high) in terms of rich content, crisp delivery, flexibility for a professional learner, and immediate applicability to my daily responsibilities. Truly spectacular!"
"Presenters were top notch and clearly current in the field of strategic planning. I very much enjoyed this class."
"This has been a great resource and learning opportunity for me. Will not only make me a more valuable employee but more importantly will benefit our hospital and patients."
---
Due to popular demand, SHSMD is excited to offer the Strategic Planning in Health Care online course series again! The series received an outstanding overall evaluation rating of 4.87/5 (with 5 being extremely satisfied).
The series will offer two core courses plus self-paced electives that allow you to customize the program based on your areas of interest. See below for more detail.

Discounts available for groups of 3 or more. Special rates available to anyone facing furloughs or layoffs due to COVID-19.
We encourage you to participate as much as possible during the live webinars, but in the event you cannot attend, all modules are recorded and available 24/7.
---
Course 1: Strategic Planning Process and Content
November 9 - November 18, 2021
This course will cover four modules, with each module including a live, 60 minute webcast and associated discussions/assignments. Registrants must also pass a short exam at the end of the course as part of the credential requirements.  
Module 1: Designing an Effective Strategic Planning Process
Tuesday, November 9, 2021 | 12:00-1:00pm CT / 1:00pm-2:00pm ET
Module 2: Elements of a Strategic Plan
Thursday, November 11, 2021 | 12:00-1:00pm CT / 1:00pm-2:00pm ET
Module 3: Strategic Metrics (Key Performance Indicators)
Tuesday, November 16, 2021 | 12:00-1:00pm CT / 1:00pm-2:00pm ET
Module 4: Understanding Context and Being Future Focused
Wednesday, November 17, 2021 |10:00am-11:00am CT / 11:00am-12:00pm ET
Electives Course: Self-Paced 
November 22, 2021 - January 31, 2022
Course 2: Successful Plan Execution
Tuesday, January 4 - Monday, January 31, 2022
Module 1: Communicating the Strategic Plan to Different Stakeholders
Tuesday, January 4, 2022 | 12:00-1:00pm CT / 1:00pm-2:00pm ET
Module 2: Developing a Tactical Plan
Thursday, January 6, 2022 | 12:00-1:00pm CT / 1:00pm-2:00pm ETT 
Module 3:  Integrating and Aligning the Strategic Plan with Financial Planning
Tuesday, January 11, 2022 | 12:00-1:00pm CT / 1:00pm-2:00pm ET 
Module 4: Bridging Worlds
Self-paced and accessible 24/7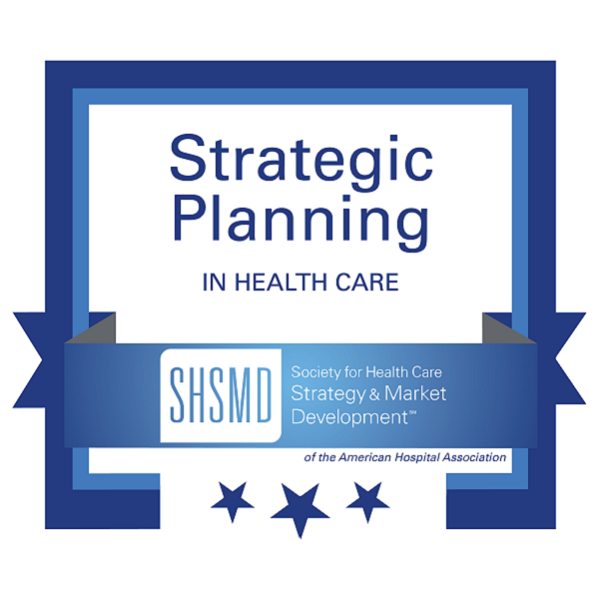 Only upon completion of all the credential requirements will registrants will receive a SHSMD Strategic Planning in Health Care Credential. This includes completion of assignments, discussion board, exams, quizzes and evaluations.
REGISTER HERE:
$775 SHSMD Member
$975 Non-members*
*Includes a one-year SHSMD membership
FACILITATORS
Christine Gallery
Senior Vice President, Planning and Chief Strategy Officer
Emerson Hospital
Jeffrey A. Kraut
Executive Vice President Strategy & Analytics
Northwell Health
Susanna Krentz
Principal
Krentz Consulting
New this year!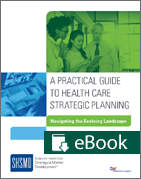 All participants will receive a free digital copy of the new SHSMD publication, A Practical Guide to Health Care Strategic Planning. To purchase additional copies of the publication, click here.