Bridging New Paths: Competencies Needed for Transformational Healthcare Strategists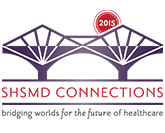 As we focus on reconstructing the healthcare industry, do you feel the need to be transformed? The strategy and business development team at Thomas Jefferson University Hospitals has adopted a competency model that outlines a process to target professional growth around a set of core proficiencies, incorporating Bridging Worlds competencies into this process. Applicable to all levels of personnel, this competency model can be used not only to guide development conversations, but also to put an accountable structure and focus around your development plans.
Members, to view this protected content, log in above.