Insights From the SHSMD Executive Dialogue: Discover What's Possible
---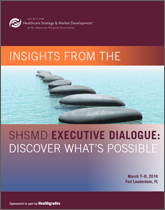 An intimate group of senior health care leaders gathered in Fort Lauderdale March 7–8 at the 2016 SHSMD Executive Dialogue for a collaborative exploration of possibilities in new technologies, consumerism, telemedicine, digital innovations and more.
A panel of executives from Uber, Garmin, MedStar and Cleveland Clinic shared innovative approaches for creating meaningful, long-lasting relationships with customers, presented real-world examples, and offered solutions to support consumer-driven, value-based care.
During the course of the two-day event, health care leaders engaged in rich discussions on a wide range of topics, including: 
Leading change.
Integrating and co-creating new pathways.
Designing engaging patient experiences.
Developing collaborative partnerships.
Turning advanced technologies into opportunities.
Members, to view this protected content, log in above.