Leading Transformational Changes
---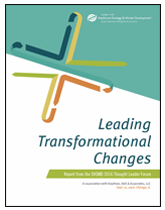 Hospitals and health systems face tremendous challenges. Organizations that will succeed are those that build scale by evaluating what existing services may be better provided by outside strategic partners, and that are proactive in embracing innovation to improve access, reduce costs, and enhance overall quality in health care.
At the 2016 Thought Leader Forum held at SHSMD's annual conference, a diverse panel of health care professionals shared their insights and perspectives on change leadership. The report summarizes the highlights, including:
Establishing a strategic framework in a rapidly changing health care environment
Developing an internal innovation capability
The implications of the Medicare Access and CHIP Reauthorization Act (MACRA)
The use of partnerships to position organizations for success
Perspectives on health care's future landscape
Members, to view this protected content, log in above.