Is COVID-19 a Transformational Event for Health Care?
A report from the 2021 Thought Leader Forum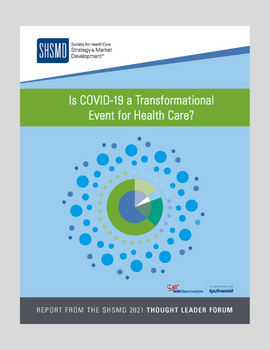 Whether the many changes made in response to the pandemic will become permanent is an unanswered question, as is the long-term impact of the upheavals experienced since the pandemic began on such issues as social justice, mental health, and the public safety net. To help its members think through these questions, the American Hospital Association's Society for Health Care Strategy & Market Development (SHSMD) hosted the forum, "Is COVID-19 a Transformational Event," at its 2021 annual conference in San Antonio, Texas. 
The Thought Leader Forum, facilitated by Kaufman Hall, included the following panelists with expertise in areas around health equity, new care delivery models (virtual care and at-home care), service distribution, and anticipating changing consumer needs: 
Dr. Margaret Lozovatsky, Chief Health Informatics Officer, Novant Health, Winston-Salem, N.C. 
DeAnna Minus-Vincent, Executive Vice President, Chief Social Justice & Accountability Officer, RWJBarnabas Health, West Orange, N.J. 
Randy Oostra, President and CEO, ProMedica, Toledo, Ohio. Moderated by: Ryan Gish, Managing Director, Kaufman Hall 
The panelist shared their perspectives on the impact of the COVID-19 pandemic and discussed whether the pandemic is a catalyst for major transformation or will we see a return to normal? This summary report provides an overview of the key takeaways from the forum that include: 
Distinguishing between areas of health care most poised for change versus those with persistent stability 
Identifying how the post-pandemic landscape can vary across markets 
Finding new opportunities for your organization in the post-Covid recovery 
Download this report to learn more from the dialogue with senior leaders about the profound impacts of the COVID-19 pandemic, the many changes made in response, and what health care will look like post pandemic. 
Sponsored by Kaufman Hall

Key Resources