---
SHSMD Credentials are awarded for successful completion of designated programs that confirm proficiency of a skill through testing, examination, skill demonstration, or project completion. Additional requirements may include participation in discussion boards, quizzes, group work, presentations, and additional readings/assignments as assigned by faculty. Upon successful completion of all requirements, participants will be awarded with a verified SHSMD Credential in a paper certificate form as well as a shareable digital credential described below.
---
What is a Digital Credential?
SHSMD has recently launched a digital credential program that offers members a visible, verifiable and sharable recognition of their significant professional achievements. Credentials make keeping track of your professional development easier. Now you can simply supply a link to your credentials and showcase your skills.
A digital credential (also known as a badge) is a validated, standardized graphical representation of knowledge and skills that can be earned by undertaking various learning activities. Each digital credential has a unique URL that credential holders can share electronically via social media, electronic resume, and email. The URL is embedded on an individual's profile page on a firm website. This URL links to a description verifying what the learner achieved by completing a program.
Read more about how digital credentials are impacting the workforce and career development:
What is the Benefit of Having a Digital Credential?
A digital credential helps individuals gain recognition for significant professional development by allowing them to easily share their achievements. Each credential has a unique URL to ensure that the individual earned the shared or displayed certificate.
According to a recent LinkedIn study, LinkedIn profiles with certifications and credentials are viewed six times more often than the average profile.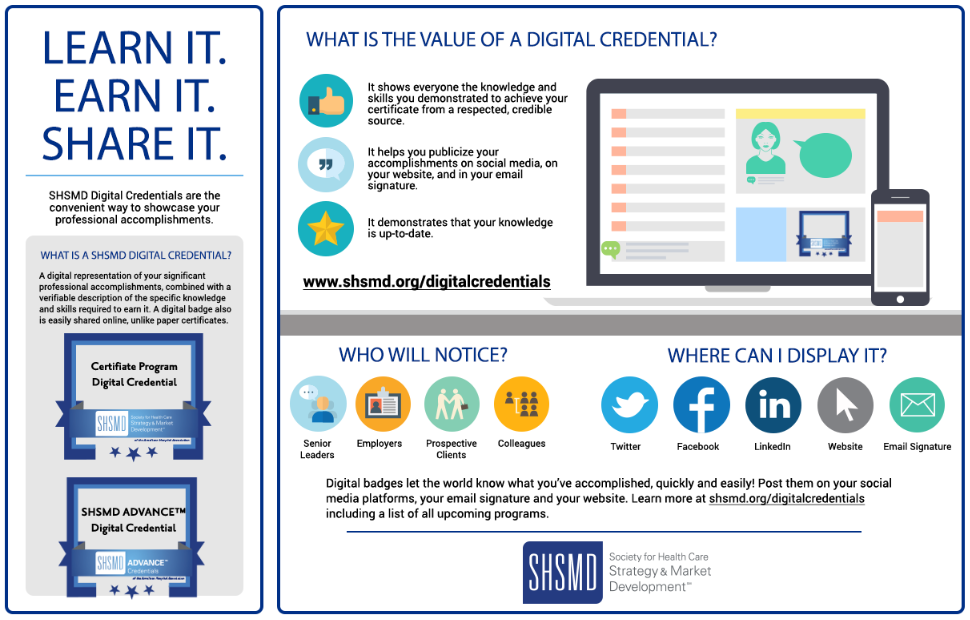 SHSMD Programs
By successfully completing requirements for each of the following SHSMD programs, you will be able to earn and share a digital credential. Click here to view all credential program descriptions and criteria.
In-Person Pre-Conference Intensives:
Stay tuned for 2020 pre-conference intensives.

Steps to Claim and Display Your Earned SHSMD Digital Credential an in-depth how-to guide in claiming your Digital Credential
Upon successful completion of a SHSMD program, you will be emailed instructions for accepting your badge.
If you did not receive the instructions, check your email's spam/junk folder to see if the notification was delivered there.
Once you Accept the credential, you will probably want to tell others! Sharing to social media such as LinkedIn is easy through the Share button. You have many options available to you including:
Frequently Asked Questions
Whether you are considering an SHSMD program that offers a digital credential, have already earned your first badge, or are supporting staff who have earned a digital credential, these answers to frequently asked questions will help you navigate SHSMD's Digital Credential program.