Creating a Strategic Planning Process that Drives Future Success
---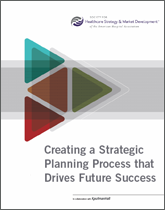 A collaboration between the Society for Healthcare Strategy & Market Development and Kaufman, Hall & Associates, LLC
Is your planning process nimble enough? Are you receiving valuable input? Are you monitoring progress well and frequently enough? Is the plan yielding the outcomes you seek? 
A recent survey of health care strategic planning leaders by SHSMD and Kaufman, Hall & Associates, LLC, highlights a number of opportunities for improving strategic planning in health care organizations. Forty-seven health care strategic planning leaders, including chief strategy officers, vice presidents of planning, and directors of strategic planning, responded to a survey and shared how well they thought their approaches incorporated best-in-class practices. Four areas stand out as the most critical opportunities for improvement:
Incorporating consumer insights
Informing planning via data analytics
Integrating planning and capital allocation
Engaging key stakeholders in planning
This survey report includes key survey findings and key thoughts from leading health care planners, including:
Ruth Colby, chief strategy officer, Silver Cross Hospital
Meta Dooley, senior vice president, strategy development, Catholic Health Initiatives
Mark Grube, managing director, Kaufman Hall
Carol Y. Koenecke-Grant, vice president, strategic services, Valley Health System
Ruth Portacci, principal, Healthcare Strategy Partners, Inc., and SHSMD board president
Maria L. Royce, chief strategy officer, WellSpan Health
PLUS! SHSMD members, replay the SHSMD U webcast on this topic.
​​​​​​​Members, to view this protected content, log in above.