Mobile: The Just-in-Time Patient Educator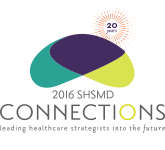 The Children's Specialty Care Center of St. Louis Children's Hospital had three communication challenges: (1) reaching parents prior to surgeries and procedures, (2) preparing the family and patient for the before- and after-care, and (3) keeping parents updated during surgery and recovery. Creating a mobile SurgeryConnect app was the answer. Learn how SurgeryConnect was designed — from conception to release — to solve the center's challenges while nurturing a "connection"with patients and families, and also producing a positive ROI.
Members, to view this protected content, log in above.